In Store Prospector Global Color™ Reference System
The Prospector color reference system allows for fast, accurate color reference using technology specifically developed to accurately represent the latest waterborne aftermarket coatings.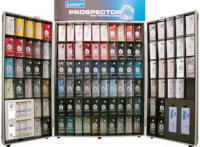 Specifically designed to support SWAFC's AWX global waterborne product line, the Prospector is Sherwin-Williams' first global color system and is entirely made up of actual AWX color sprayouts. Its solid and metallic colors--currently more than 3,000--are arranged in convenient, handheld decks and are organized by color family using a combination of spectrophotometric and visual methods.

The system will continue to be expanded and will include more than 5,000 colors by the end of 2008.

Sherwin-Williams' Prospector Global Color™ Match System has large, easy-to-use chips featuring one color per page, with a matching color number and identifiable bar code on the back to eliminate confusion. The fact that each color chip is actually 'sprayed' and not a computer-generated image gives the customer the confidence that they're mixing it right the first time.

The system is designed in families of color based on the RAL international coloring system and are divided into four basic finishes: solids, effect metallics, matte, and textured.