Automotive Finishes
Concept Finishes Ltd. offers you Sherwin-Williams Automotive Finishing products for both passenger cars and commercial vehicles with the goal of speeding up production time, improving finish quality and satisfying customers.

AWX™ the waterborne basecoat /clear coat system offers a waterborne basecoat, as well as ancillary products such as Ultra High Performance low VOC clear coats that provide faster drying times, easier application, superior hiding, coverage and colour matching that improve shop productivity.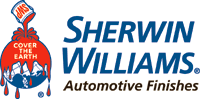 Paint Systems
ULTRA 7000 Basecoat/Clear Coat
DIMENSIONS Base Coat and Acrylic Enamel
Undercoat Systems
Etching Fillers
Tintable Primer
Tintable Sealers
Custom Color Spray Bombs
Prepared in-house while you wait.